For any small business it has now become essential to have at least some sort of web presence.
If you don't embrace the digital age in 2014 you are literally throwing away money as customers move increasingly online when searching for products, services and information.
At Tartan, we're obsessed with getting people to make the move online but understand that in these troubled times many small business owners fear the costs involved.
We're so passionate about the need to get businesses online we'd work for free if we could, but sadly we've got bills to pay and overheads like everyone else…

So what have we done?
We've researched the market and found what we consider the eight best free website builders that money (can't) buy.
Importantly, they had to be easy to use and produce really good results.
If you don't mind doing a little DIY work they'll get you a web presence that you can control, getting you in front of potential new clients through some of the 400 million searches carried out each day.
(Sure… by spreading the word about these free services we're probably going to lose some custom at the budget end of the market but you know what? The important thing is we get you online.
And besides, maybe one day you'll require some SEO, Online Marketing, or custom graphics.)
So, here they are – Tartan Web Design's pick of the best free website builders:


Free Website Builder #1: Wix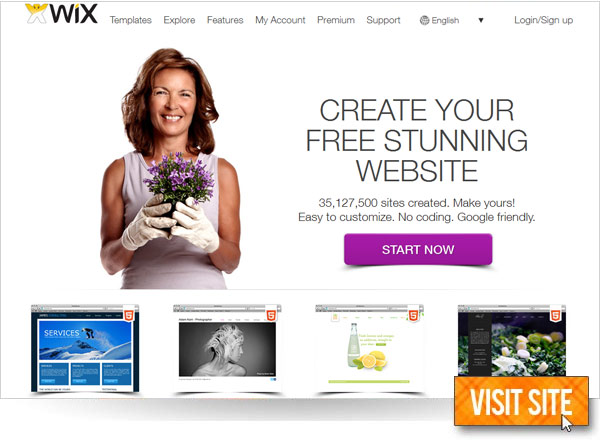 Our top choice, Wix.com is now the most popular free website builder in the world, boasting almost 27 million websites built so far.
Wix.com specializes in the creation of search engine friendly websites built using Flash (it used to be an issue with iPads but that's been fixed!).
Wix isn't just for building personal pages either – not many know you can build a professional online shop, mobile website or even a Facebook page. When you take advantage of a free website from Wix, you get a free second level domain (ie your-name.wix.com), and are limited to 500MB storage space and bandwidth, as well as having small Wix adverts on your website – but you do get built-in Google Analytics and a quality support network.
If you're keen on upping your game there are a huge number of upgrades available at negligible cost.
Free Website Builder #2: Moonfruit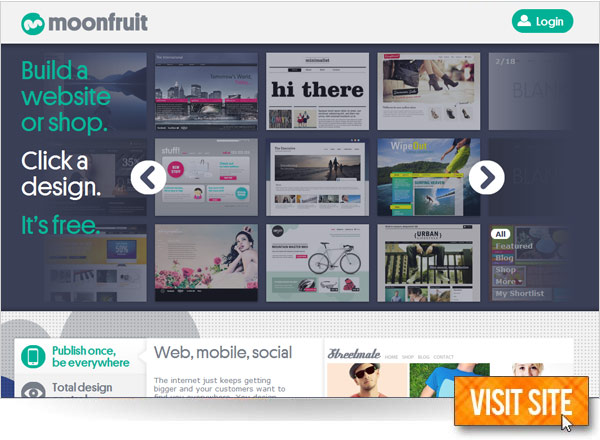 Moonfruit.com offers an incredibly easy-to-use free website builder package with a great variety of attractive and professional templates. Getting a free website from Moonfruit consists of a single website with a maximum of 15 pages on a second level domain, with 20MB of storage and 1GB bandwidth. There is no customer support for free sites and as with other free website builders, you get adverts.
One of the real advantages of a Moonfruit site – and it REALLY is a massive plus – is that alongside your web version of your website Moonfruit software automatically creates a mobile optimized version and can even push your entire site onto Facebook with just a few clicks. For a socially connected mobile solution Moonfruit takes some beating.

Free Website Builder #3: Yola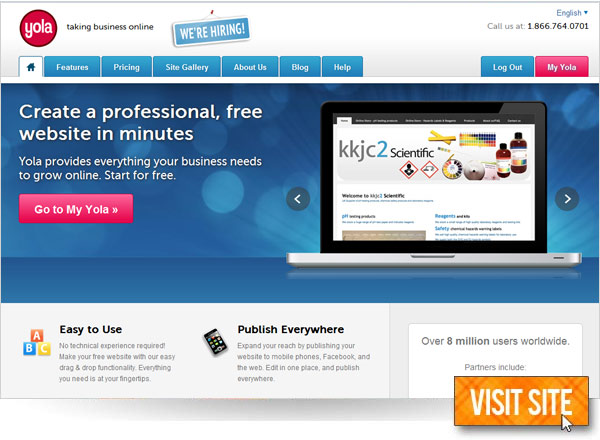 Taking out a free package from Yola
will give you 5 websites instead of the more common single site, it's uniquely banner-free hosting, with quality customer support, build-in website statistic and 1GB storage per site. As with all the free website builders your website will be on a second level domain.

Free Website Builder #4: Webs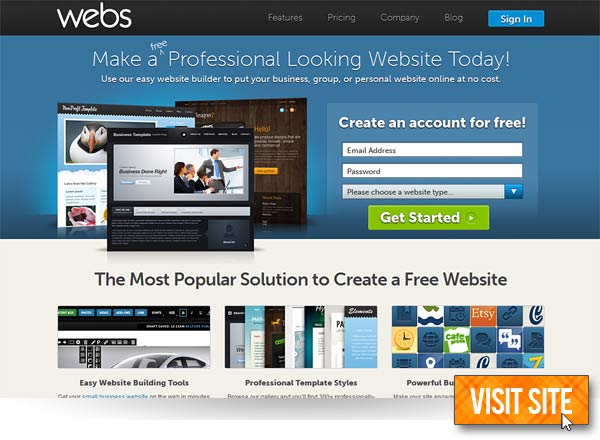 A free website package on webs.com includes a single website with adverts, alongside a mobile version of your website, with the package being limited to 500MB bandwidth and 40MB storage space. If you decide to create an online store using webs.com using the free package the number of items you can sell will be limited to 5.

Free Website Builder #5: Jimdo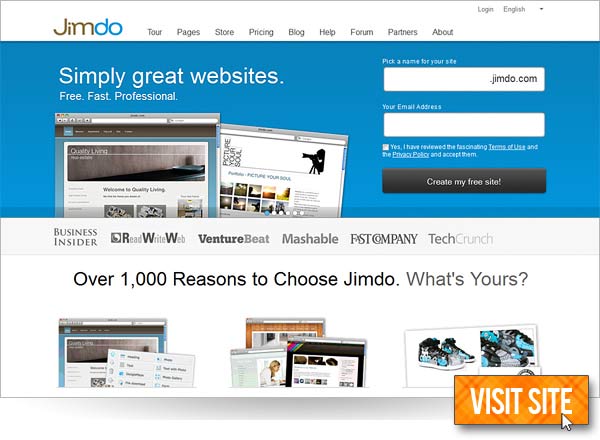 Running since 2004 free website builder Jimdo.com also provides a useful opportunity to create a free website, from a personal page to an online store (although with the store there is a limited number of items you can sell with a small fee payable for any store sales.

Free Website Builder #6: WebNode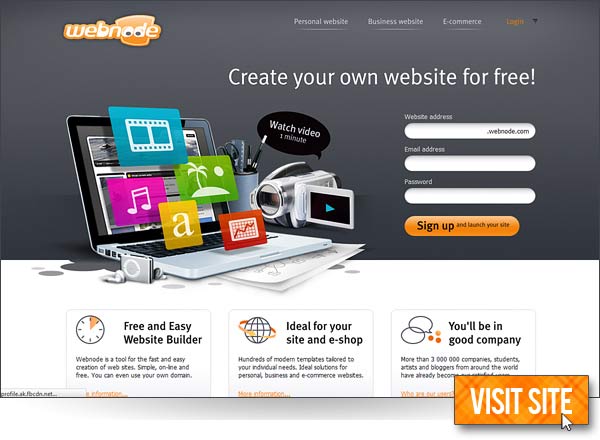 As with many of our chosen free website builders, Webnode.com offers free versions for personal websites and online stores. Both have similar limitations to the others such as 1GB bandwidth and a small storage space (10MB for on-line store and 100MB for personal website). Furthermore the number of products you are able to offer in your free online store are limited to 10.

Free Website Builder #7: Edicy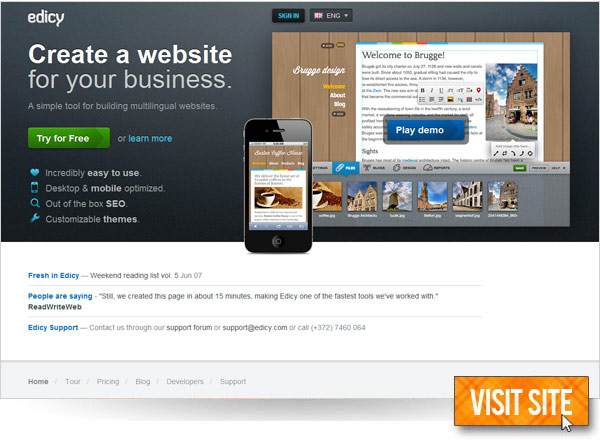 Edicy.com are one of the less well known free website builders and offer a lifetime website with industry standard limitations on size and function: 100 MB storage space, standard design, basic statistic and 2 users.

Free Website Builder #8: WebStarts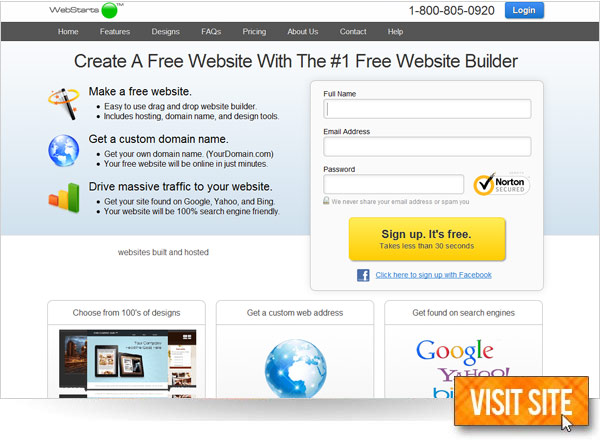 WebStarts.com provides similar services to Wix but with a little more limitation in size and potential (at least using the free version). A free website from WebStarts will include 5 pages, limited web storage of 10MB and bandwidth of 5GB/mo and a WebStarts footer advert displayed on all pages of your website. It's great for small personal websites but is limited for those with more ambition.