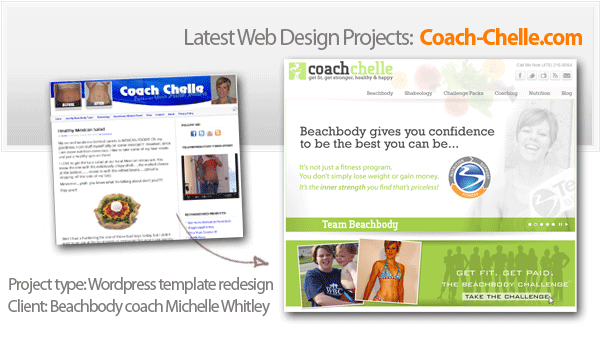 Project: Beachbody Coach Site Redesign

Beachbody Coach Michelle Whitley came to Tartan looking to have her existing Beachbody Coaching website redesigned.

The aims of the redesign were to add a new overall branding and professional / healthy feel to her website – and for it to produce more business for her in terms of sign-ups to her Beachbody coaching courses and to sell more Beachbody product.
Before taking on the project we'd never heard of Beachbody – an American healthy eating and fitness business opportunity in which self employed coaches train and mentor clients in bodily and mental strength, long-term weight control and improve financial self sufficiency through business skills training with an opportunity to earn income through selling healthy supplements and exercise programs.

We quickly realised just how big a thing Beachbody is in the US – and how competitive it is – so we set about ensuring that Michelle's site would give a more professional first impression through new branding, new site-wide template graphics and clearer calls to action.
Michelle will be providing all the site's copy and is currently putting together a free product to build an e-mail list.
Tartan will be providing Michelle with social branding in early 2013 with a Facebook Fan Page and Facebook app. to increase her interaction, social reach and potential traffic and particularly to become less reliant on search engines for traffic.

We will shortly be offering specific Beachbody coach web design packages on our new US specific website at TartanWebDesign.com – launching mid 2013