How to take advantage of our free website offer:

STEP ONE:
Deciding you'd like one of our free websites. Whether you leap in the air or shout Eureka is up to you.
STEP TWO:
Now you need to pick a domain dame for your website. Maybe it's the name of your company? Maybe it's the service you provide?
Check if your domain is available HERE.
Once you've made sure your chosen domain name is available – you buy it.
Domains tend to cost between £3 and £10 a year for the popular .co.uk and .com varieties 
(JustHost
even offer a free domain with their low-cost hosting)

STEP THREE:
Web hosting – all websites need a cosy little home..
Whether your web design and development costs thousands, or it's free – you'll still need suitable web hosting.
Again we recommend JustHost. They're easy to work with, reliable and provide exceptional value for money. We rate them so much we use them for all of our own sites including this one.
In fact to take advantage of our free offer it's important that you use JustHost. The only way we can possibly provide this service to you for free is because of their super-easy quick install system and a small fee they pay us for referring new clients (it doesn't effect the low price you pay, which is currently £2.95/month).
If you don't use JustHost – we'll still happily build you a website – but our regular web design fees will apply!
Get started - Grab your free domain name and hosting
STEP FOUR:
This is the exciting bit: We're just about to build you your free website!
Now you need to decide the look and feel you want for your website by picking one of our stunning professional website templates.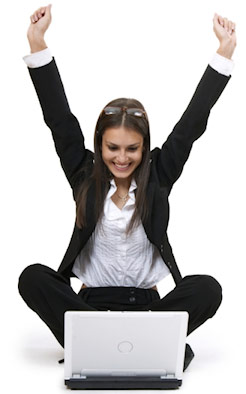 Select YOUR premium website template HERE
As soon as you've chosen your template and have your domain name and hosting arranged – contact us by clicking the button below.

We'll get in touch as we need a couple of codes to grant us temporary access to your web hosting server while we build and install your site.
Once we have this information and your site preferences we'll make a start on getting your site built and set up using the template you've chosen.
We'll also set up your main pages and principal navigation menu if you've told us what you'd like your main pages called. If you also want a blog or regularly updated "News" section we'll get that link added to your menu too.
When we're done we'll send you the log-in details you'll need to access your site editor. The system is very much like a word processor and you can easily have fabulous looking pages published and online in no time at all.
Again – don't worry. In the unlikely event that the on-board help menus and hints aren't enough – we'll provide you with easy to follow step-by-step videos and tutorials.
So that's you. Four steps later and you've got your very own website.
You're online and ready to take on the world!
Grab your place in the queue: Order your free website NOW
*is  this  too  good  to  be  true?
To be honest that would be our first thought too!
Thing is, we know many local businesses are struggling under the current financial situation and paying for a web design can often be an expense too far – despite the proven revenue boost an effective web presence brings to most businesses.
So we decided to play the long game.
We'll give you a professional bare-bones website, install it and set it up for you – and then when the time comes that you're in a better financial position and are looking for Search Engine Optimisation or Online Marketing services – you'll remember the guys who helped you out with the free site.
You don't have to – seriously – you're under no obligation at all. (But it would be nice)
We also add a small link at the bottom of your new website that leads here. It's actually a common practice among web design companies and helps us enormously with our own off-page Search Engine Optimisation. (For those of you who don't want the link, you can easily opt out by paying us an admin charge of £10)
Finally – our partners at JustHost.com pay us a small referral fee after 60 days for your webhosting. It's not much – but it helps us offset a little of your free website setup costs.
Don't worry, this referral doesn't cost you a penny more than their already ridiculously good value hosting – which is currently £2.95/mo – so you'll not be out of pocket when you take advantage of our offer.
You see – we help you – and for no personal time or additional expense, you help us. Everyone wins.